Jewels' Hannah Sue is my newest edition. She was born June 10, 2011 and is very sweet yet independent. Hannah has a mostly red background yet comes from a red mom and black/red dad. Hannah is a tiny toy weighing just over 5lbs.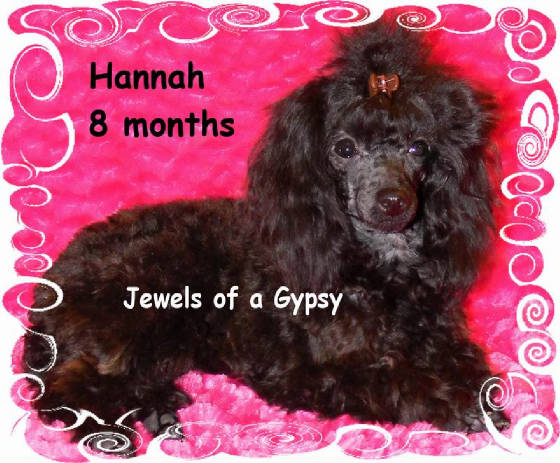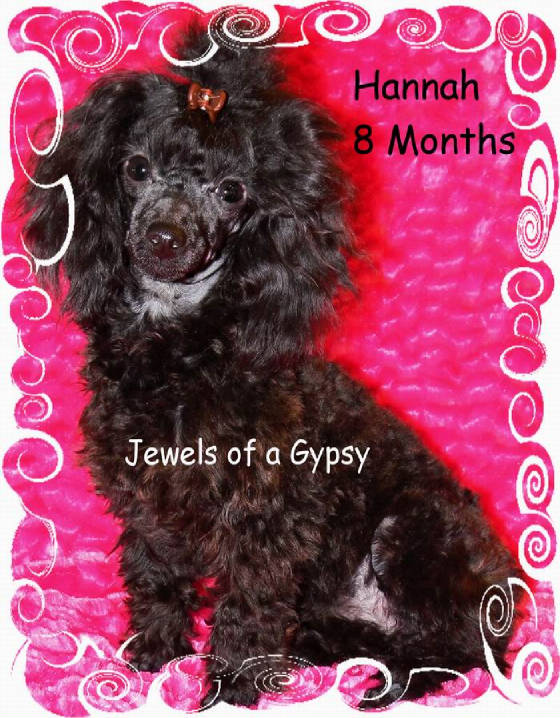 Midnight's Black Magic Woman aka Beemer is a blue tiny toy and produces mostly tiny toy babies in the 4-6lb range. Beemer loves being a mommy but giving kisses is her favorite thing to do. Beemer retired summer of 2011 and enjoys being queen of the roost around here.
Beemer 3 weeks to go! August 24, 2010
****Sorry to say Ru Ru and Ruffles have been placed in a pet home together**** It breaks my heart to see them have difficult pregnancies and/or need C-sections.
Jewels' Bella Rosetta La Rouge
AKA - RU RU
Ru Ru is a color bred red Toy born 9-11-2010. Ru has 10 champions in her 5 Generation Pedigree. Although she is a toy her mom and dad are teacups weighing 4lbs and under. Ru is very mild mannered and loving girl who loves to be held and rocked in yours arms like a baby. Truly a little princess.
Watch for Ruffles to have her first litter summer of 2012.
INTRODUCING
Jewels' Ruffles of Truffles
AKA Ruffles - born January 19, 2011
Ruffles is a beautifully marked brown and white parti. She is my little tom girl yet so sweet when she wants to be. She has the baby doll face yet very solidly built. Ruffles and Mikey should produce some really beautiful parti babies as Mikey's mom is also a brown and white parti.
HAPPY BIRTHDAY RUFFLES
1 Year January 19, 2012